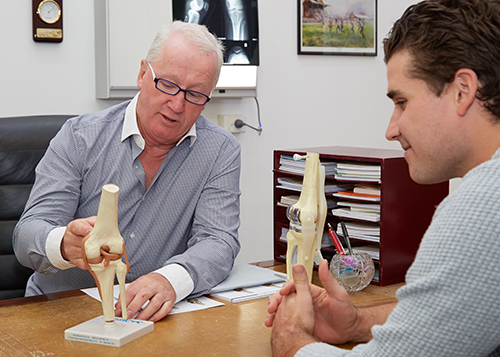 A total knee replacement (also known as total knee arthroplasty) is an operation performed to replace a worn-out knee joint. The joint becomes worn-out most commonly as a result of osteoarthritis but can also result from other causes such as trauma or injuries, inflammation (eg. rheumatoid arthritis), infection and overuse. The aim of a TKR is to relieve pain, restore function and movement, and improve quality of life.
The diseased joint and bone is removed and replaced with a new artificial knee joint. The artificial knee joint is made from a surgical-grade metal alloy with a special wear resistant plastic insert. TKRs are one of the most successful operations available today with over 90% still functioning well at 15 years.
The surfaces of the thigh and shin bones are replaced with high resistant metallic components called the femoral component and tibial baseplate. Between the femoral component and tibial baseplate a plastic insert is implanted. This replaces the cartilage function allowing the thigh and shin bone to slide on each other. It is not to remove the whole joint, but merely to resurface the diseased or traumatized bony edges.
Technical advances have given us new materials and new instrumentation to replace your problem knee. Mr Moran prefers to perform the knee replacement using patient specific instrumentation for most patients unless there is a specific reason otherwise. This involves analysing a diagnostic image of your leg and creating a surgical instrument in collaboration with a team of engineers that is tailored specifically to fit the exact shape of your knee.
This Patient Matched Technology enables precise preparation of your bone in surgery for accurate implanting of the prosthesis leading to a less traumatic procedure and to ensure the knee replacement is well aligned.
Once Mr Moran has diagnosed that a Total Knee Replacement procedure is needed you will be required to have a CT scan of your leg at least 3 weeks prior to your scheduled surgery date.
A plastic 3D model is then created using the image of the CT scan. This enables Mr Moran to select the best implant for you. Using the 3D model of your knee Mr Moran then, in collaboration with a team of bio-medical engineers develops the surgical instruments to be used on your knee.
Mr Moran will receive these patient matched instruments along with a plastic replica of your knee prior to your operation date to use in surgery.
See below for a video depiction on patient matched knee replacement surgery.