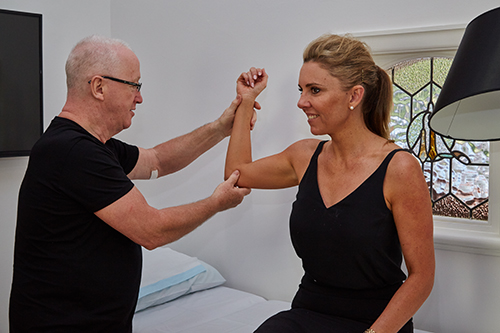 A total shoulder replacement is an operation performed to replace a worn-out shoulder joint. The joint becomes worn-out most commonly as a result of osteoarthritis but can also result from other causes such as trauma or injuries, inflammation (eg. rheumatoid arthritis), infection, overuse, as well as chronic rotator cuff tears.
The aim of a total shoulder replacement is to relieve pain, improve quality of life, and restore function and movement. The diseased ball and socket joint is removed and replaced with a new artificial shoulder joint. The ball is replaced with a surgical-grade metal alloy while the socket is replaced with a special wear resistant plastic implant.
A total shoulder replacement procedure provides the most reliable and consistent results with respect to pain minimisation and return of function.
If you have significant shoulder arthritis as well as chronic rotator cuff tears, you may be a candidate for a reverse shoulder replacement. A reverse shoulder replacement is where the ball and socket of the shoulder replacement is flipped around to improve your range of motion. Mr Moran will discuss these options with you at your consultation if applicable.